Announcing REVEL Mt Lemmon in Tucson, AZ
We are excited to announce a new location in the REVEL Race Series! Join us on Sunday, November 12, 2017 for the Inaugural REVEL Mt Lemmon Marathon & Half. Starting in the beautiful mountains north of Tucson, AZ and running downhill to end in the city, this course offers the signature downhill profile and beautiful canyon scenery that Revelers have come to love. Use code REVEL at checkout by August 4 to save $10 and combine that with the Facebook and team discounts to get a total of $20 off your registration!
REVEL Mt Lemmon Elevation Profile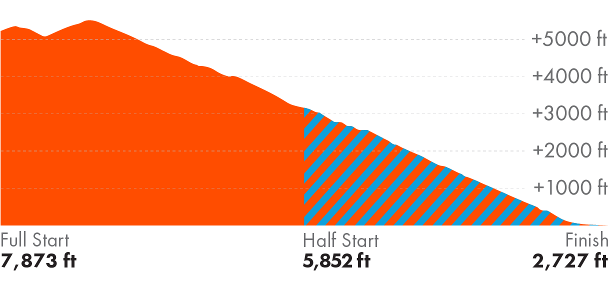 REVEL Big Cottonwood Price Increase
REVEL Big Cottonwood in Salt Lake City, UT has a price increase on August August 9! With towering granite walls and a trickling river beside the course, the scenery in Big Cottonwood canyon is unsurpassed. Save $10 by registering before the prices goes up!
SUMMER TRAINING TIPS
Are you in the middle of training for REVEL Big Cottonwood or Canyon City? OR have you heard about the NEW race--Mt. Lemmon? If you are running one of these it probably means you're doing long runs in the middle of summer. I don't have to tell you it's HOT out there. Here is a list of reminders for your long run.
Monica is a Health Coach and RRCA certified running coach living in southern California. She blogs at RunEatRepeat.com sharing her adventures of running marathons and eating delicious food all across the USA.
BIG COTTONWOOD COURSE PREVIEW
A course strategy – and overall race strategy – is a must for optimal performance on race day. Whether this is your first REVEL Big Cottonwood race and your goal is simply to finish, or you are Big Cottonwood veteran aiming for a PR or BQ, you should have a well-planned strategy for how you intend to manage the course!
The head coach of REVEL's Online Coaching Program, who has run a Boston Qualifier in all of the REVEL marathons, has prepared a detailed description of the Big Cottonwood Marathon and Half-Marathon courses.
Paul Carmona is the Online REVEL Coach who has designed trainling plans specifically for REVEL downhill courses. He is an 11-time REVEL Marathon Finisher and run multiple Boston Qualifiers on every REVEL course!
Race Calendar
Sep. 9, 2017
REVEL Big Cottonwood
Salt Lake City, UT
Nov. 4, 2017
REVEL Canyon City
Los Angeles, CA
Nov. 12, 2017
REVEL Mt Lemmon
Tucson, AZ

Use code REVEL until Aug 5 to save $10

Price Increase August 22, 2017

Apr. 28, 2018
REVEL Mt Charleston
Las Vegas, NV
Jun. 3, 2018
REVEL Rockies
Denver, CO
Launch Team UPDATE
| | |
| --- | --- |
| | Over 60 youth from age 8 to 20 are training with the Launch Team in Utah. They meet twice a week and are training to run REVEL Big Cottonwood on Sept 9. Last week they ran 7 miles down Big Cottonwood. It was an awesome site to see 60 youth out running on the course. They are learning the importance of living a healthy lifestyle that they can accomplish difficult whatever they set their mind to. Thank you Launch Team volunteer coaches for all your help! |
Team Highlight
| | |
| --- | --- |
| | With 158 members and growing, Run4Fun is the largest team signed up for Big Cottonwood. It is also the largest team across the REVEL series. Run4Fun is a friendly Facebook group with a very diverse following. They also won the team marathon award last year. |
Alta View Lecture
Sponsor Highlight
| | |
| --- | --- |
| | Are you powered by Kodiak Cakes? Run faster and train harder with a local natural foods company. Kodiak Cakes is dedicated to whole grains to fuel your active lifestyle. |
Random Race Entry Giveaway
| | |
| --- | --- |
| | Congratulations to Valencia Smith, who ran the 2016 REVEL Big Cottonwod Half Marathon. She was randomly selected as the winner of a FREE race entry to any 2017 REVEL event. Keep your eyes out each month to see if you're the next random winner. Valencia, email revel@runrevel.com to claim your prize. |
| | | |
| --- | --- | --- |
| | | |