Marathon & Half Marathon
Date:

TBA

Location:

Mt Lemmon, Tucson, AZ

Course:

Fast & Beautiful

Boston Qualifier:

Yes
This incredibly fast and remarkably beautiful road race takes runners from the forests and canyons of Mt Lemmon to the foothills of Tucson, Arizona. Featuring a smooth downhill slope and spectacular scenery in the Coronado National Forest, this race will be sure to help you set your PR and finally hit that Boston Qualifying time as it is the fastest marathon and half marathon in Arizona. REVEL in speed. REVEL in beauty. REVEL down Mount Lemmon!
Elevation Profile
Net Elevation Drop
Average Marathon Times
What Runners Think
Great! Well organized and very runner friendly.

—Chad Joyce

Out of the 17 marathons I have run, Mt Lemmon was one of the most well run marathons that I have attended and that includes 2 Bostons.

—Steve Hollander

Amazing sunrise to kick off an amazing and beautiful course!! The volunteers were great, the aid stations stocked and porta potties a plenty! The course was fast and fun!

—Laura Swenson

Great weather and views. Well organized. Qualified for Boston 2019!

—Lorena Boyd

Parking and shuttle to start was flawless. The start area porta potties were plentiful. Race provided gloves and heat sheets were awesome for helping to keep warm before the start.

—Lisa Seidel
The Cause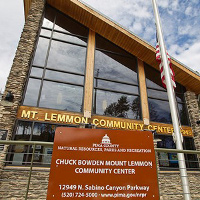 REVEL Mt Lemmon donates a portion of your registration fees directly to the Mt Lemmon community as our way of giving back.
Triple REVELer
Run any 3 REVEL races (full or half marathon) in a calendar year to receive a special edition Triple REVELer medal. You will be in an elite company of REVELers who keep coming back for more!
Countdown to the race
:
:
:
Dec. 4, 2019 - REVEL Race Series - Blog Post

Kulia Course Preview A critical component of a race strategy is the course profile. Where ...

Read More

Dec. 3, 2019 - REVEL Race Series - Blog Post

Nov. 26, 2019 - REVEL Race Series - Blog Post

Cyber Monday Comes Early! Cyber Monday Pricing on REVEL Merchandise has already started and...

Read More

Oct. 25, 2019 - REVEL Mt Lemmon - Review

Sept. 24, 2019 - REVEL Race Series - Blog Post

Sept. 23, 2019 - REVEL Race Series - Blog Post

Sept. 1, 2019 - REVEL Race Series - Facebook Post

G2G Bars are refrigerated protein bars with unmatched taste. No preservatives, no refined sugars, ju...

Read More

Sept. 1, 2019 - REVEL Race Series - Facebook Post

If we volunteer for big cottonwood do we get race credit?...

Read More

Aug. 31, 2019 - REVEL Race Series - Facebook Post

REVEL RECAP // Chilliwack 2019 // "Never in a million years did I think I could ever qualify for ...

Read More

Aug. 31, 2019 - REVEL Race Series - Facebook Post

How have you prepared for the fast downhill miles to come? @AfterShokz, our official headphone sp...

Read More