Marathon & Half Marathon
Date:

June 1, 2024

Location:

Denver, CO

Course:

Fast & Beautiful

Boston Qualifier:

Yes
This incredibly fast and remarkably beautiful downhill road race takes runners from the forests and canyons of the Rocky Mountains to the foothills of Denver, Colorado. Featuring a perfectly smooth downhill slope and spectacular scenery, this race will be sure to help you set your PR and finally hit that Boston Qualifying time. This event is guaranteed to be your new favorite marathon or half marathon in Colorado! REVEL in speed. REVEL in beauty. REVEL in the Rockies.
Elevation Profile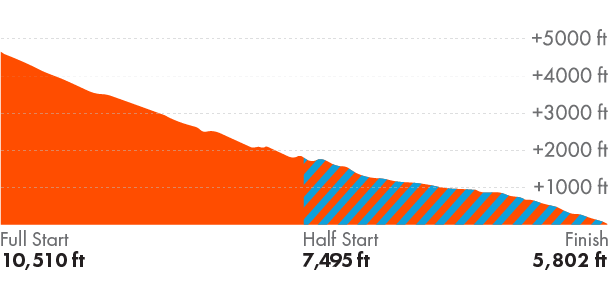 Net Drop

Average Marathon Times

What Runners Think
Awesome volunteers and a great, well organized race.

—Gwen Jacobson

I had a BQ-20. My fastest time in 3 years & I will be heading back to Boston.

—David Holmen

Great & well organized race. Great bling. Ice cold towels were a nice touch.

—Othman Doubiany

First marathon and BQ'd with 6 minutes to spare.

—Steph Armstrong

Shaved 5:25 off of my last record! I nearly cried when I saw that clock!

—Lindsay Schade

I shaved 9 minutes off my PR!

—Pamela Hartley

Beautiful course, great volunteers and an awesome race staff!

—Vanessa Kline

Awesome event! Finish line atmosphere was one of the best I have experienced!

—Elizabeth Schwemlein

So much fun! So beautiful! I recommend this race.

—Ray Perrin

A new favorite! Very well managed! Great bling!

—Angie Johnson
Triple REVELer
Run any 3 REVEL Races in a calendar year (half or full) and receive a special edition Triple REVELer medal. You will be in an elite company of other Triple REVELers who keep coming back for more.
Countdown to the race
:
:
:
Aug. 1, 2023 - REVEL Race Series - Blog Post

June 7, 2023 - REVEL Race Series - Blog Post

May 10, 2023 - REVEL Race Series - Blog Post

Volunteer Coaches Needed If you are interested in volunteering as a coach to help train...

Read More

May 1, 2023 - REVEL Race Series - Blog Post

May 1, 2023 - REVEL Rockies - Review

April 27, 2023 - REVEL Rockies - Blog Post

A course strategy – and overall race strategy – is a must for optimal performance on r...

Read More

April 4, 2023 - REVEL Race Series - Blog Post

March 13, 2023 - REVEL Race Series - Blog Post

IT'S TIME TO SAVE BIG REVEL Race Series wants you looking and feeling your best running...

Read More

March 1, 2023 - REVEL Race Series - Blog Post

REVEL Rockies price increase Prices will be increasing for REVEL Rockies on March 16, 2...

Read More

Jan. 28, 2023 - REVEL Race Series - Blog Post

Do you love running so much that you want to make a career out of it? We are hiring a Sales Pr...

Read More