Marathon & Half Marathon
Date:

TBA

Location:

Azusa, Los Angeles County

Course:

Fast & Beautiful

Boston Qualifier:

Yes
This incredibly fast and remarkably beautiful road race takes runners from the forests and canyons of the Angeles National Forest to the foothills of Azusa, California. Featuring a smooth downhill slope and spectacular scenery, this race will be sure to help you set your PR and finally hit that Boston Qualifying time. REVEL Canyon City is the fastest and most beautiful marathon and half marathon in California. REVEL in speed. REVEL in beauty. REVEL in Canyon City.
Elevation Profile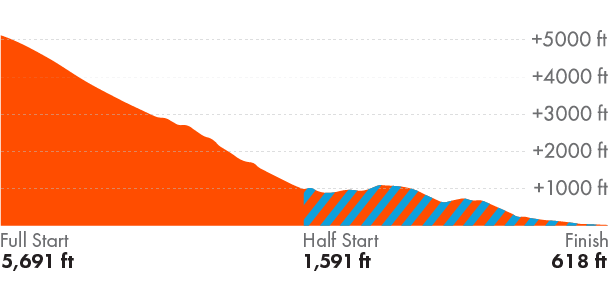 Net Drop

Average Marathon Times
What Runners Think
Extremely well organized. The buses, aid stations, bib pickup, all were great. The blanket really helped at the start.

—Sue Spears

Incredibly well organized from start to finish. Great volunteers. Beautiful course. Best marathon experience I've had.

—Bret Martyn

This race was so fun!! I definitely want to do it again! Great views!

—Deanna Elauria

Downhill running is fun. I got a PR. The medal is huge!

—Billie Parsons

Thanks for making everything so easy - website, race info, expo, blankets and gloves for start line, plentiful hydration stations, course safety, etc!

—Steve Bautista

I hit my goal of a sub 3 hr. My previous PR was from Revel Big Cottonwood. This is a great race to hit your PR!

—Paul Northcutt

After the race, there was PIE. I mean, really, who does that?

—Lorraine Lerner

Did you PR? Yes by far this was my best time.

—Abel Lopez

The scenery was amazing! Throughout the entire race I would look to my left or right and check out the vast landscape.

—Danny Huang
The Cause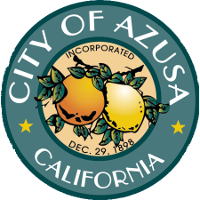 REVEL Canyon City donates a portion of your registration fees to the City of Azusa Recreation and Family Services Department as our way of giving back.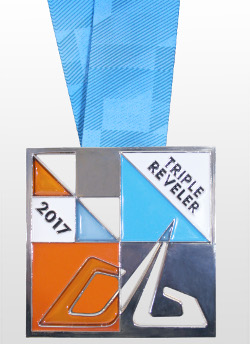 Triple REVELer
Run 3 out of the 6 REVEL Races in 2017 (half or full) and receive a special edition Triple REVELer medal. You will be in an elite company of other Triple REVELers who keep coming back for more.
Countdown to the race
:
:
: