Contents

REVEL Mt Charleston Limited Edition Race Information
Quick Info
Cancellation, Withdrawal, Deferment, & Transfer Policy
Unlike other REVEL races, it will NOT be possible to withdraw from this race and receive a refund; nor will it be possible to defer your entry to a future REVEL race. Once registration is complete, your entry is locked in and cannot be undone. However, it will be possible to transfer your entry to another individual per usual at REVEL events. See the Transfer page for additional details.
If any given race day hits its cap and proceeds as planned but later gets cancelled due to restrictions related to the COVID-19 pandemic, all registrants will receive a full refund of their entry fees. Note that REVEL will not issue refunds or reimbursements for travel-related expenses under any circumstances.
If any given race day hits its cap and proceeds as planned but later gets cancelled or postponed due to anything other than COVID-19 (i.e. inclement weather), no refunds will be processed. Under this scenario, registrants will receive a partial credit for their entry fees that may be used at future REVEL events.
Waves
During the registration process runners are required to enter their true expected race pace. This data will be used to divide runners into waves of fewer than 50 people. Once the registration cap is hit for each day, runners will receive an additional email with information about their wave assignment. Because there will be 30 minutes in between each wave, many runners will start the race well after a typical race start time. It is therefore advisable to not book any travel plans until after receiving confirmation of wave assignments.
Health and Safety
The health and safety of each runner is the absolute top priority at this event. Extreme measures will be taken to ensure that public health guidelines are met and exceeded.
Masks MUST be worn by all participants, staff, and volunteers at all times during Packet Pickup and on race day. The only exception to this rule is that runners may remove their masks while they are actually running the race. Masks will be provided at Packet Pickup, bus loading, and the finish line.
All participants, staff, and volunteers must maintain at least six feet of distance between other individuals at all times.
Staff will constantly sanitize high-touch surfaces at Packet Pickup, start lines, aid stations, and the finish line.
Hand sanitizer will be available for participants at Packet Pickup, as they board and unboard the bus, and at the finish line.
Temperatures will be checked prior to bus loading. Any individual with a temperature of 100.4 or higher will not be permitted to board the bus or participate in the race.
The race will be ran in an "open road" format, meaning that although there will be cones placed along the shoulder line in Kyle Canyon, there will still be active traffic flowing up and down the route during the race. Runners will be required to remain in the shoulder of the road in the canyon. Because there is always at least four feet of paved shoulder and vehicle traffic on the route is limited, runner safety will not be compromised as long as runners remain in the proper designated shoulder.
Each of the intersections along the final few miles of the course have a stop sign for cross-traffic, meaning that runners will never cross a street with free-flowing traffic. As pedestrians, runners will have the right-of-way to use the crosswalk at each of these intersections. However, runners are encouraged to be extremely cautious and watch for vehicles prior to crossing any street.
UPDATE: On 11/5/20 the City of Las Vegas installed new traffic signals at the intersections of Ft Apache & Elkhorn and Ft Apache & Deer Springs Way, replacing the stop signs that previously controlled those streets. These two intersections are now controlled by stop lights in regular operation. However, during the hours of the race these stop lights will be set to flashing red, converting them back to four-way stops. This means that although runners should always be cautious before crossing an intersection, they will still have the pedestrian right-of-way and should not have to stop when arriving at these locations.
Runner Perks
In addition to offering a fully-supported run down an incredibly beautiful mountain and getting the best PR and BQ opportunity you may ever have, we strive to make REVEL Mt Charleston Limited Edition even more memorable with the additional perks listed below.
Free Photos & Personalized Videos
There will be photographers at multiple locations along the course to take pictures of your race experience. Be sure to smile big, make a tough face, or strike a pose for the cameras as you go by. Please make sure your bib is visible as well.
All race photos will be provided for free. We will also use photos you select to create a personalized highlight video for you. It is crazy to pay $50 to $100 for a single image download like you may have experienced before. Your memories are on us! Your photos will be made available shortly after the race along with your results on the results page. You will receive a link via email a few weeks after the event to select the photos for your video. Check out the following personalized video sample: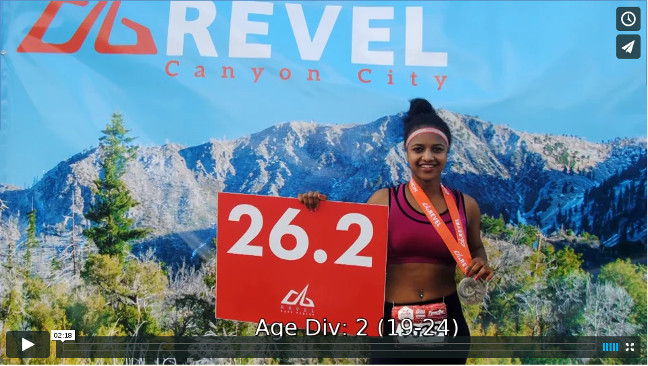 Medals
Medals will be given to all participants who cross the finish line. We have created special Limited Edition medals to commemorate this unique race. This huge, high-quality bling will be equal to your effort and is certain to win a place at the top of your medal collection.
Great addition to my medal collection.

—Bill Beardall

They're absolutely beautiful! Well done!

—Rachael Williams de Graaf

Totally!!!! Love!!! the Finishers Medal!!!

—Kathy Kirsling

Love the bling! I wish I could wear it to work!

—Janel Jordy

Extra big bling! Love it!

—Julie Weidner

I love it—way cool and unique!

—Laura Palato
Shirts
Every participant will receive a high-quality, gender-specific tri-blend shirt. Rather than yet another tech shirt to clutter your closet, this shirt will be one that you can wear casually in social settings or at work. We guarantee that this will be a shirt you'll want to keep.
Swag
REVEL swag will be included in your race bag that you will receive during Packet Pickup. In addition to other items, all runners will receive a pair of gloves and a mylar blanket to be used in case of cold weather. Iced towels will be given to all runners as they cross the finish line.
Finish Line Food
Once you cross the finish line, you will be welcomed with delicious food to refuel your body. Plenty of carbs, goodies, and cold drinks will be all yours.
Travel
Rental Cars
REVEL Race Series has teamed up with Enterprise & National to get you the best rate! Book your rental car using this booking link.
Airport
If you are traveling to REVEL Mt Charleston Limited Edition, the closest airport is McCarran International Airport in Las Vegas. McCarran is just 18 miles from the finish line and a stone's throw away from the famous Las Vegas Strip.
Partnering Hotels
Santa Fe Station Hotel & Casino
4949 N Rancho Dr
Las Vegas, NV 89130
4 miles from finish
Use Group Code ACIREVE
Special rate

Additional Amenities
$44.99-$69.99
Packet Pickup
Due to COVID-19 restrictions, there will not be a pre-race expo. Instead there will be a simple Packet Pickup from 3:00-6:00PM each day preceding a race day at Red Rock Running Company 7930 W Tropical Pkwy Ste 150 Ave, Las Vegas, NV 89149. Runners must attend the Packet Pickup on the day before their race.
A photo ID is required to pick up your race bag. We will allow individuals to pick up someone else's bag, but will require a digital or hardcopy of the person's ID and a written note authorizing them to do so.
If you will be arriving in town after the hours of Packet Pickup or are otherwise unable to attend, you may elect to have your packet shipped to you for an additional fee. This option may be selected during registration.
Parking & Busing
UPDATE: As of 11/9/20 the parking area has been moved to be immediately adjacent to the finish area. This change removes the need for post-race shuttling between the finish area and the parking area. Please note the new parking/busing address below. REVEL Mt Charleston Limited Edition is a point-to-point course, and as such we will bus you from the parking area to the start line. The cost of busing is included in your entry fees. You do not need to reserve a spot on the bus, as your bib is your ticket to ride. ALL PARTICIPANTS must take a bus to the start lines (you may not park at or be dropped off at the start lines).
Half Marathon buses will depart at 5:00am. Marathon buses will depart based off your assigned wave from 4:20-6:40AM. The bus loading and departure zone is located adjacent to the finish line at 6105 N Durango Drive, Las Vegas, NV 89149.
Staff will be on hand to help direct runners and ensure that parking and busing runs smoothly.
Drop Bags
You will receive a race bag at Packet Pickup. This bag is for you to take to the starting areas. A number that matches your race bib will be put on the outside of your race bag. This is to identify your bag at the finish area after the race, and you will need your bib to prove ownership of your bag when you pick it up. Please carry any belongings to the starting area in this bag, as opposed to any other personal bags, which cannot be identified by your race number. Bags will be left on the bus at the start area, and the bus will transport the bags to the finish line for you.
Timing & Bibs
Timing
The races will be chip-timed using timing tags adhered to the back of your bib. Your time will begin when you cross the starting line, and will stop when you cross the finish line. Overall winners (top 3 in each race) will be determined by chip time. Please do not tamper with the timing chips, as they cannot be replaced once linked to your bib number.
Bibs
Because the timing tag is adhered to the back of your race bib, it is important that you do not cover your bib with clothing or other objects that may interfere with the tag reader when you are crossing the start and finish lines. Furthermore, in order to ensure that race volunteers, officials, and photographers can properly identify you, you must wear your bib on the front of your person in an unobstructed position. If the photographers along the course can not see your bib number, we will have no way to get your photos to you.
Aid Stations
There will be ten aid stations on the marathon course and six on the half marathon course. All aid stations will be supplied with Powerade Lemon Lime, water, porta-potties, basic first aid supplies. Additionally, various aid stations will be supplied with doTERRA Deep Blue, and Honey Stinger energy gels (Chocolate, Vanilla, & Acai Pomegranate).
Time Limit
Runners must finish the race in 6.5 hours or less after being dropped off at the start line.
Based on the USATF certification standards the course is measured on tangents or SPR-Shortest Possible Route. Therefore if you run on the inside or outside line the entire length of the race your GPS may reflect a distance slightly greater than 13.1 or 26.2.
Weather
Although we cannot predict the weather, we can provide some historical weather averages for the area on the date of the race:
Average Low on Mt Charleston: 36 F
Average Low in Las Vegas: 47 F
Average High on Mt Charleston: 62 F
Average High in Las Vegas: 68 F
While we will provide gloves and mylar blankets, we highly recommend that you come prepared for cold temperatures at the start line by layering and then shedding your layers to put in your drop bag just before the race begins.
Spectators
Due to COVID-19 precautions and regulations set by permitting authorities, spectators will not be allowed along the entirety of the route or at the start lines/finish line. Roaming course marshals will be present to ensure groups are not congregating.