Marathon & Half Marathon
Date:

Cancelled

Location:

Mt Hood, OR

Course:

Fast & Beautiful

Boston Qualifier:

Yes
This incredibly fast and remarkably beautiful road race takes runners from the majestic Timberline Lodge at the base of Mt Hood to the charming towns and forested foothills of the mountain just outside of Portland, Oregon. Featuring a smooth downhill slope and spectacular scenery in the Mount Hood National Forest, this race will be sure to help you set your PR and finally hit that Boston Qualifying time as it is the fastest marathon and half marathon in Oregon. REVEL in speed. REVEL in beauty. REVEL down Mt Hood!
Elevation Profile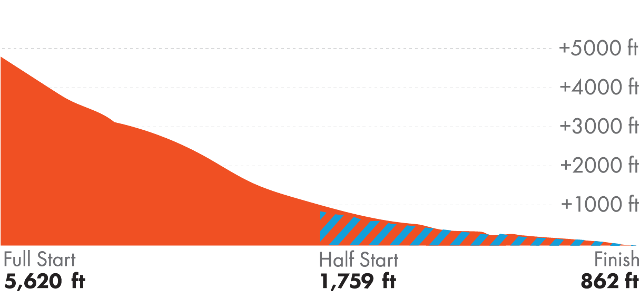 Net Elevation Drop

Average Marathon Times
What Runners Think
The best race I have ever run! REVEL you rock!

—Jessie Rubalcava

REVEL Mt Hood was a stunning course. Just can't get better than that!

—Maria Wahl

You put on a great event! One of my favorites, and I have ran more half marathons than I can count!"

—Kara Bowman

Y'all did everything right from a runner's perspective, which never happens. Thank you!

—John Nolan

By far one of the best race I've run. The organization, the organizers, and the course were top notch!

—Gary Doxtater
The Cause
REVEL Mt Hood donates a portion of your registration fees directly to the Mt Hood community as our way of giving back.
Triple REVELer
Run any 3 REVEL races (full or half marathon) in a calendar year to receive a special edition Triple REVELer medal. You will be in an elite company of REVELers who keep coming back for more!
Countdown to the race
:
:
: